Cultivating a Culture of Courage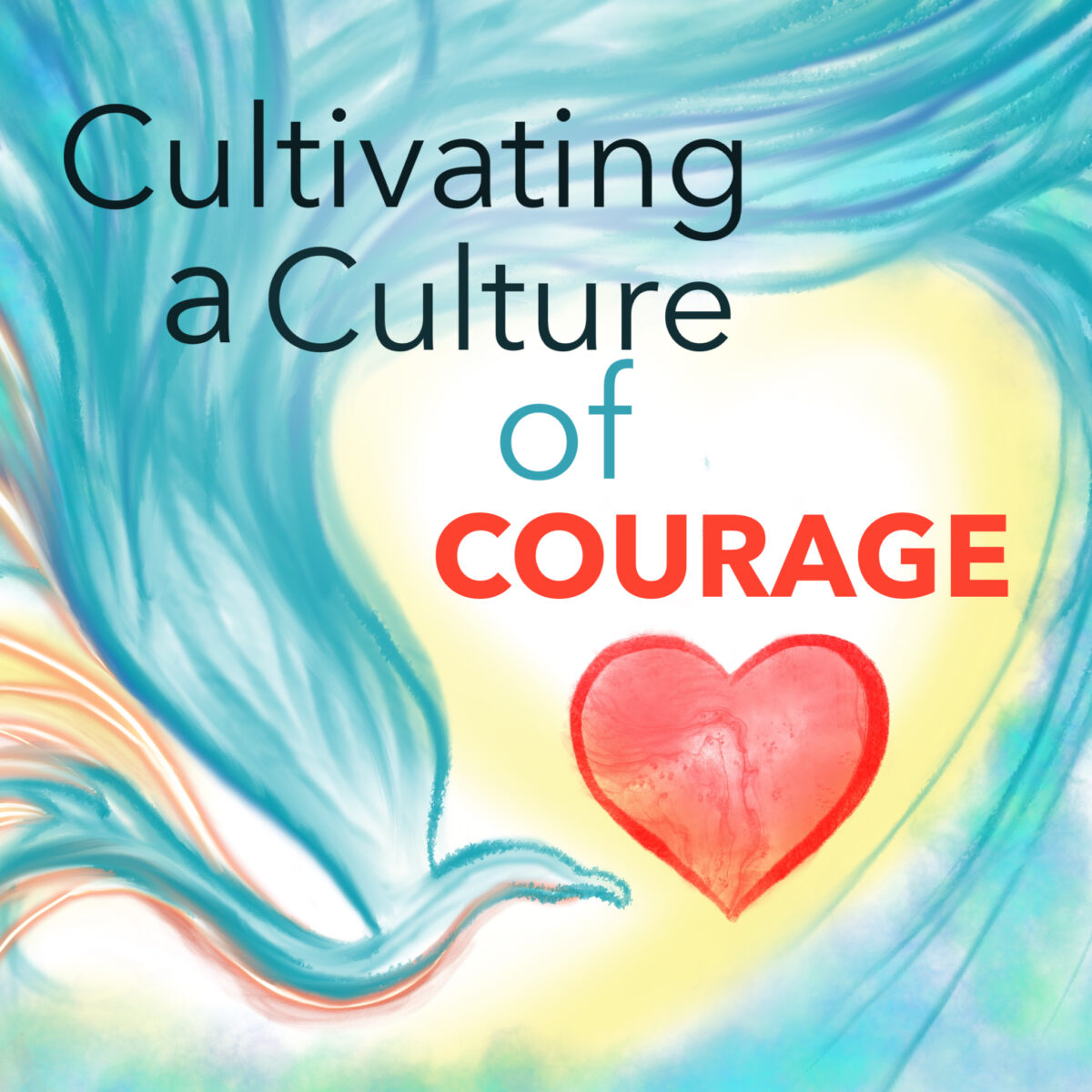 As the world returns to in-person work and school, so many conversations are brought into the forefront of public debate. Businesses and organizations have been working to keep up with the recommendations from authorities and professionals. They take into consideration the unique needs, culture, and values of the organization and include dialogue with stakeholders. Over the past few months, I could not help but fall down the rabbit hole of school board meetings that can be found on YouTube. Many of these videos show concerned parents voicing their opinions over hot button topics such as masking policies and diversity, equity, and inclusion practices.
One video stands out to me in particular of a teenager whose grandmother passed away from COVID earlier in the year. At his local school board meeting, the teenager  voiced his support for mandatory masking in front of members of his community. As he spoke, the adults laughed at him and heckled him as he shared the experience of losing his grandmother. In the midst of this shocking behavior, the student continued to share his story, thoughtfully and unwaveringly. Watching this video, I found myself so inspired by this brave act of courage. He demonstrated a level of courage that people twice his age would struggle to show. So how can we be more intentional about cultivating a culture of courage, within ourselves and our communities?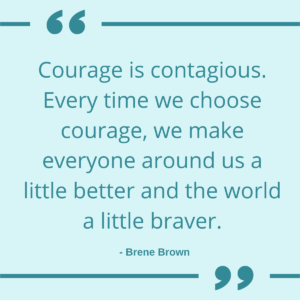 The theme of courage has been on my mind so much lately as I have been working with a team of teacher-leaders and administrators to implement a K-12 One District, One Book program. The premise of the program is simple yet incredibly impactful; each student in the district reads the book Courage, by Bernard Waber. The book, insightfully written and beautifully illustrated, highlights a wide spectrum of ways to show courage throughout our lives. The year will be filled with activities that span grade levels, involve the greater community, and invite guest speakers and programming into the schools, all centered around the theme of courage. We can be intentional about our desire to teach and cultivate courage in our organizations and communities. Consider the ideas below and how you as a leader can foster a spirit of courage in your organization. 
Have the courage to be an example
As leaders, if we want to inspire others to be innovative and try new things, we need to be ready to take the vulnerable first step of demonstrating courageous behavior. Embrace this as an opportunity to try something new. Your act of courage should not be a major change that adds more work to your team. Consider demonstrating courage by:
Looking for a new way of seeking feedback from your team, staff, or students. 
Attempting a new format for running a team meeting
Incorporating an energizer at the start of an afternoon staff meeting. 
Wrapping-up a lesson by asking students or colleagues to share a 1-word check-in on how they are feeling
Let people know you are trying something new. Displaying your act of courage will inspire and give permission for others to do the same. 
Celebrate wins and failures
Brene Brown reminds us that courage is contagious. Be the example, give others permission to take risks, get out of their way, and be ready to cheer them on. Take time to honor these moments with others. Knowing what your teammates need is important. Some people enjoy a public shout out, while a private, handwritten note goes further for others. Make supporting your team or students a priority. Create opportunities for colleagues to celebrate, appreciate, and collaborate with one another. Never underestimate the power of small acts of appreciation. 
It is easy to celebrate successes, but often we skip the party for our failures. One of my mentors and friends has a sign in her classroom that says, "Mistakes Made Here." I have always admired it and decided to display the same message in my own classroom. Mistakes make the ground fertile for better ideas and realizations that ultimately optimize an organization's level of innovation. As leaders, we need to be comfortable supporting others through those failures by helping them debrief, asking how we can be of support, and most importantly, asking the question "What next?" 
Have the courage to be open
As the spirit of courage spreads, be ready for a culture transformation in your organization. Embrace a spirit of collaboration and openness. As people become more courageous, they might feel more comfortable to share constructive feedback. There may be more conversations that feel uncomfortable at times, but this is a sign of healthy, effective teamwork. Giving others voice and choice in the decision-making process, coupled with visibility and approachability, will demonstrate a commitment to a positive culture. Be open to the feedback you are receiving. We have the opportunity now to challenge the old ways and potentially make way for new ways of thinking and Watch the spirit of courage gradually inspire others around you to take risks and try new ways of being and doing. Remember to be there to support and celebrate others. Be patient and watch as your new culture of courage takes root, evolving into a community of innovation and collaboration.