Summit Reflections – Part 1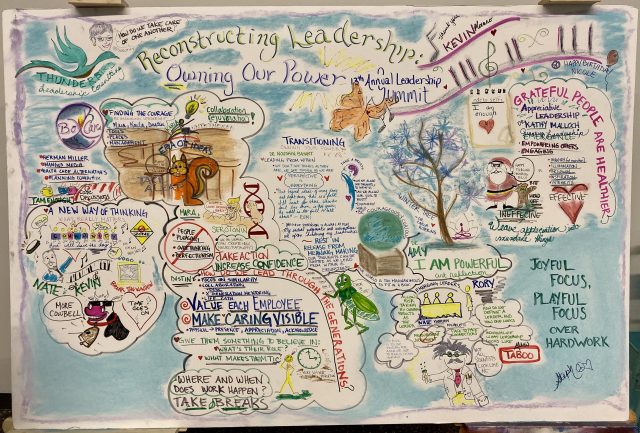 13th Annual Leadership Summit
Reconstructing Leadership: Owning Our Power
One participant described it this way:
"A leadership spa for the soul that provided space for reflection, laughter and tears, commitment to a new way of being, connecting with old and new friends and appreciation for everything that we have."
Situated at the Phoenix Art Museum on November 15, 2019, the Summit left me with lots of intriguing ideas, making for a rich and meaningful time.
Karla Kaelin, one of the speakers during the Leadership Panel, took us on a journey through three eras of industry, information and ideas, and how management, places of work and tools have changed in each. Old hierarchies are falling in favor of collaborative 'messes' which produce innovation much faster in response to the demand for shorter and shorter speed-to-market cycles. Technology is becoming so seamlessly integrated into our lives that we are virtually (ha ha!) unaware of it, like the air we breathe.
One of Karla's points that excited me was this: What if work became the place you went to rejuvenate?  Work can be draining for many people, and when we return home, we are too tired to engage well with the other parts of our lives. How interesting to think of work as a place of rejuvenation, where we receive as much (or more) energy as we give. What would have to happen to make that vision come true? More flexibility, more fun, more control, less nonproductive 'stuff'? How could your workplace be more rejuvenating so that you wanted to go to work?
Here's another 'aha' moment for me. . . In this era of 24/7 availability for many roles, it has to be OK to work at home, and to rest at work. When work happens is as big an issue as where work happens. Karla shared examples of hospitals with quality staff rest areas immediately across from a nurses station. . . mood lighting, recliners, Skype set ups for contacting family, ping-pong tables.
Who would have guessed that the activity titled Community Building would result in a rousing pick up chorus performance of 'You Gotta Be' by Des'ree? But that is exactly what happened, and even the non-singers in the group said they had fun. Musicians Nate Bachofsky and Kevin Monaco led us through group singing, singing in anthem-response style, adding harmonies, varying from whisper to crescendo, and playing with percussion. No doubt, we were energized.
When I think about singing in a chorus, there are lots of similarities to working in collaboration with others. For one, where I place myself when learning a new song is critical. If I'm not familiar with the melody or timing, being near a good singer (mentor?) who projects well is a smart plan. And if I am lucky enough to be in a group with harmonies and tambourines, I can immediately appreciate the richer sound we are trying to create. Adding diversity to our voices is powerful, just like in organizations. The result itself is energizing and spurs us on to better performance. Another similarity is in volume variety. Thinking about softs and louds can apply to leadership. Sometimes the most compelling part of a piece is the absolute quiet of a single, near-whispered note. The sound does not have to be full on William Tell Overture to capture one's attention or imagination. Sometimes that is too much. Leaders can use many volumes to get their message across.
We had the delightful opportunity to meander through the wonderful Phoenix Art Museum. In the activity titled Transitioning/Owning Our Power guided by Amy Steinbinder, we had time to locate specific works that spoke to us, and answer the question 'How does this art capture my story of transitioning and owning my own power?' It was meaningful to share our insights with each other and appreciate the value of art in helping us connect with our deeper selves.
A piece of art that caught my attention was a series of modern paintings, big and subtle squares of color on white backgrounds. They were mostly in hues of orange and yellow. I normally love artwork that features nature, but on Summit day, I was drawn to this one. What pure potential, I thought, anything can appear here even on top of the squares. And that's how I saw my life unfolding at the moment. A full canvas of opportunity with the time and tools to do and discover something new, which I had long been craving.
I realized too that I was attracted to the simplicity these pieces offered. . . something so basic as a square and color can be a beautiful thing. Just like leadership. One doesn't need fancy gadgets or complex business models to be an effective leader. Awareness of what inspires your followers and use of your own personal presence are two basic, very simple yet very effective, skills.
The Emerging Leader Panel was facilitated by Rory Gilbert. What a fun discussion and reflection of the day through the eyes of younger leaders Nate Bachovsky, Kathleen Burke and Michelle Dew! Occasional glances around the room showed that seasoned leaders were paying rapt attention to the perspectives of these emerging ones. Here are a few points that inspired me.
Do not live and lead in fear. There is so much outside attention to "bad and awful" things, and giving them too much power reduces the energy we have for moving forward, to say nothing of hope and optimism.
Collaborate with partners who share the same passion. This results in a higher energy experience, more effective, and more fun, for everyone involved.
Keep and enhance 'face' connections and invest the time it takes. When possible, choose face over digital tools. Our devices are wonderful, but they do not have the value of personal contact and relationship that is often called upon in times of stress or conflict.
Leave behind the rigid idea of what a leader looks like. Leaders come from all walks of life, all ages, all levels of an organization. They can wear 'man-buns' or use a cane. They could speak English as a second language. They don't have to look like you; in fact it's usually better if they don't.
We must be able to have civil conversations about difficult topics, at work and away. There's a lot of focus on today's polarized society and our culture's inability to sit with our conflict partners and have a good discussion about. . . "almost anything." It begins with the ability to separate the other's beliefs from the worth of the person who holds those beliefs.
Leaders should be able to acknowledge their vulnerabilities. It is the appropriate sharing of these areas that can really open up a discussion. Imagine the vulnerability of a leader who says to her team "I'm not sure where this is going, but I wonder if any of you have the experience of loneliness (or fill in the blank) here at work. How does it affect your enjoyment and effectiveness while you're here?" Big vulnerable moment because there may not be a clear direction for the discussion, or no one may feel or admit to being lonely. But if you have reason to believe that loneliness should be explored, you are doing just that, exploring with the possibility that something good may come from it.
Watch summit participants share reflections:

Though I need to stop reflecting here, there is a lot more that can be said about the Summit. Rory Gilbert will continue our next blog posting with Summit Reflections, Part 2.