2018 Leadership Summit Summary – Being on Purpose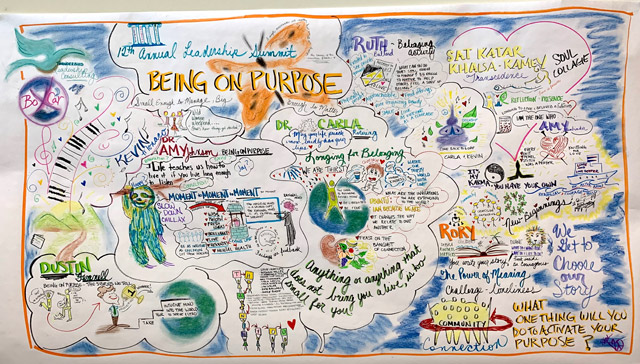 Wow! Where did the time go?  Isn't that how we feel about this time of year?  Suddenly Halloween has come and gone, Thanksgiving is past and the days just count themselves to the end of the year.
On November 9th, Thunderbird Leadership Consulting and BoxCar International hosted its twelfth annual Leadership Summit.  Dorothy Sisneros, Carla Rotering and Amy Steinbinder had the vision to bring leaders together for a special day designed to strengthen and renew us. Unlike other leadership programs, it is about turning inward and honoring and learning about ourselves to make a difference in our personal and professional lives.
This year's program, Being on Purpose: Small Enough to Manage, Big Enough to Matter, was an amazing exploration of what matters and how it matters.  We modeled the day on Emily Esfahani Smith's work, The Power of Meaning[1]. Dorothy Sisneros welcomed everyone and shared the process used by the Planning Team each year to create these amazing programs.  We listen, we observe, we read and we sense throughout the year and then share our insights and ideas to build the program.  The Planning Team nailed it again this year.
Amy Johnson[2] was our first keynote speaker.  Her role was to set the stage for the day and to explore Purpose in our lives.  She challenged us to listen deeply to ourselves and not get caught up in what we should be doing.  She quoted Einstein and challenged us to differentiate "the intuitive mind which is a sacred gift, and the rational mind, a faithful servant. We honor the servant and forget the gift." What we learned and heard from Amy was to trust our inner voice, our intuition, and not feel pressured to constantly do, to constantly force ourselves forward.  She said, "finding purpose is not about proving our worthiness, purpose has to find us, like finding love."
What a way to start the day – to step back, to allow life to speak to us instead of feeling compelled to force our way through the dense forest.  She quoted people like this quote from Tony Bennett to Amy Winehouse, "life teaches you how to live it if you slow down long enough to listen."  That is a powerful message especially at this time of the year.  Dustin Fennell lead the group through several activities to build on Amy's messages.
Carla Rotering spoke next about Belonging.  In a concise and powerful presentation, Carla changed the way we think of Belonging.  It is not so much about others as it is about my "way of being in the world."  She encouraged us not to wait for invitations for connections but to recognize that we have the capacity to reach out and connect because we already come from a greater whole.  Ruth Ballard took the group through activities to reinforce the messages.  Carla and Kevin Monaco teamed to offer a music meditation to set the stage for the rest of the day.
Then Sat Kartar Khalsa-Ramey spoke to us about Transcendence.  Sat Kartar is an ordained Sikh Dharma minister and a certified ACPE Educator Emeritus with the Association for Clinical Pastoral Education (ACPE). Her presentation was personal, current and moving as she shared her story and we sat rapt on her every word.  Transcendence was about how we deal with what life gives us, the choices we make, the connections we maintain as we travel difficult, unexplored highways.  We were privileged to share her yet-unfinished journey interwoven with Soul Collage[3] activities – that transported us from her journey to our own. Rory Gilbert helped us focus on the final pillar around Storytelling.  We found meaning and belonging and understanding of the power of Storytelling to make sense of our world.
So many people shaped the Summit.  Our wonderful planning team made everything possible.
We particularly want to thank three remarkable contributors to our day.
Kevin Monaco (composer and musician) – Kevin's music wrapped meaning around the day, connected us to belonging and transcendence and created an atmosphere of significance to all that we did. Learn more about Kevin and his music at: https://kevinmonacomusic.com
Heather Marie Paslay (massage therapist) – Heather provided chair massages throughout the breaks in the day. For those who were able to benefit from Heather's healing way, the day was that much more enjoyable and fulfilling.  Heather can be reached at paslaymaire@yahoo.com
Steph Martini (graphic artist) – Steph recorded the day as it enfolded. She captured the what, the why and the feel of our shared experience and walked us through her masterpiece as a summary to the day. To connect with Steph about her work, please connect with her at stephmartini63@gmail.com
In keeping with Summit tradition, we held a Silent Auction that raised over $3,000 for three deserving charities: Hospice of the Valley, Homicide Survivors and UMOM.
The Summit was an extraordinary day to connect with members of our Thunderbird Leadership and BoxCar community, to enjoy a deep and meaningful experience with new and old friends and colleagues.  More information about the day will appear on the Thunderbird Leadership Consulting website and we are already beginning to think about what will happen next year.  Tentatively hold November 15, 2019 on your calendar for "a spa day for the soul."
_______________________________________________
[1] Smith, Emily Esfahani (2017) The Power of Meaning: Finding Fulfillment in a World Obsessed with Happiness. Broadway Books, New York.
[2] Johnson, Amy (2013) Being Human, Essays on Thoughtmares, Bouncing Back, and Your True Nature. Self-published.
[3]For more information:  https://www.creativepilgrimage.com/soulcollage/